Why Element Blue?
Brilliant offshore services across the boundaries
Low-cost software solutions using a robust enterprise-wide solution
Service Delivery based on the engagement objectives
Structured hiring, induction, and re-tooling practices coupled with requisite trainings
Application of best project management practices and process management methodologies
Efficient and effective project management, tracking and reporting
Follows and execute latest technological trends in the industry
Well defined quality processes to ensure every deliverable is of utmost quality
High security and confidentiality pertaining to client information and data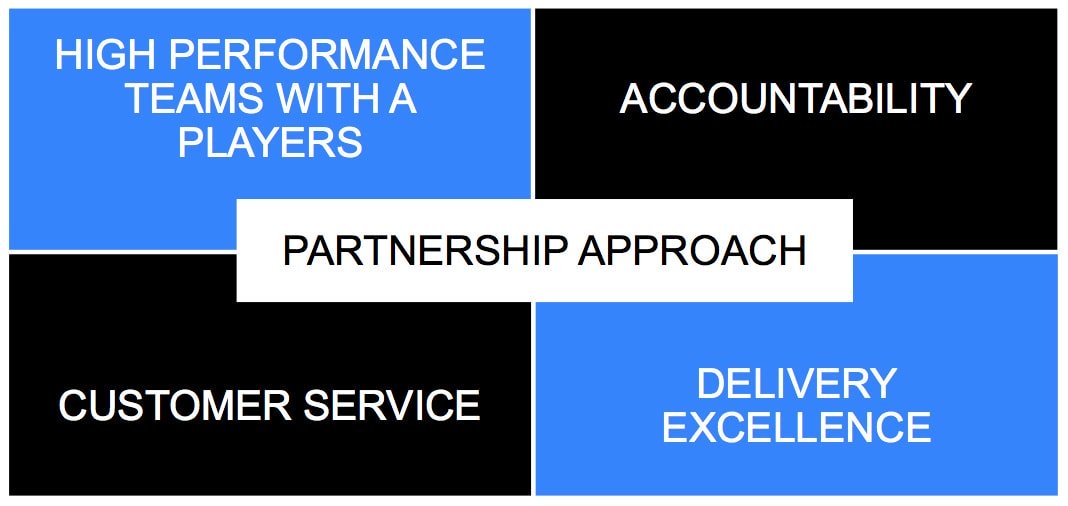 A Running History of Leading Success
"We have working with Element Blue on number of complex assignments and are very happy with the results. The Team at Element Blue provided us complete IT solutions by implementing SAP and customization it according to our requirements. Element Blue acted as our valuable resource in our strategic takeover of other companies. Element Blue have done an outstanding job of not only doing the routine jobs we ask but also provided the turnkey solutions in a very professional and timely manner. We have no hesitation in recommending Element Blue services for SAP and Microsoft technologies"
Creative, Technical Guides
"The onsite and offshore team at Element Blue have done a wonderful job in building a custom .NET application for our land group and helped enhance some of our existing applications."
Satisfied Customers
"We are working with Element Blue to implement Tobin Enterprise Land module from P2. Element Blue provided us technical skills to implement P2 Leases and Contracts module last year. Their qualified and dedicated team of developers worked 24X7 to ensure we had successful implementation. They did a great job in keeping our technical objects on track. Looking at the excellent quality of work both from the on-shore and off-shore teams, we recently signed production support contract with them. We are also working with them to implement Division Order module which is scheduled to go-live in August"
"Thanks to the Element Blue team for working hard on this project and ensuring that we resolved all open P1 and P2 defects. Team had worked closely with us in ensuring RCAs for all the issues and in helping them fix issues ASAP."
"The efforts of Element Blue team is amazing and I sincerely appreciate the fact that your team has got a grip of what was intended of you in terms of integration and operationalizing an end to end DSS. The team has also developed into being capable of understanding Earth Science systems which enables them to handle the models and their outputs better."
"We appreciate Element Blue team worked for this project, have done an excellent job during the implementation and for go live. We are really happy to associate with Element Blue for this project. Team has done really a professional job to complete this project. They have responded to my queries even in holiday's festival days without any hesitation. Also whenever I raised an issue immediately they will take the system and resolve the issue on the fly."
Smarter solutions. Better Results.
Let's get started.
Contact Us